With bars and restaurants still being limited by the pandemic, more people are drinking at home.  Drinking at home doesn't have to mean you're slumming it.
These 10 must haves will take your home bar to the next level.  As you'll see, a simple addition to your home bar can go a long way.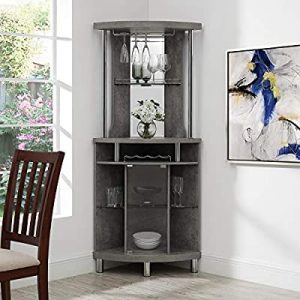 1. Home Source Corner Bar Unit (Concrete)
The first thing a home bar needs is an actual bar.  If you've always wanted a home bar, but have no idea where to put one, this is for you.  This corner bar can turn just about any corner in your home into a bar.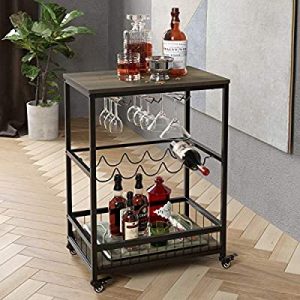 Maybe you're looking for a simpler home bar or a cart to take a few things with you into another room or outside.  If that describes what you're looking for a nice mobile cart could be an excellent addition to your home bar.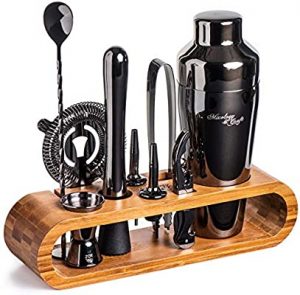 3. Mixology Bartender Kit: 10-Piece Bar Tool Set with Stylish Bamboo Stand
Any legit home bar has a mixology kit.  This 10-piece set comes with a bamboo stand and is perfect for an awesome drink mixing experience.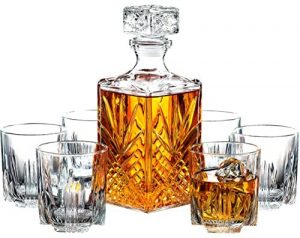 4. Paksh Novelty 7-Piece Italian Crafted Glass Decanter & Whisky Glasses Set
Complete your home bar collection with this fine whiskey decanter set.  The set includes a squared 33.75 oz decanter with a beveled fluted stopper and six 9.5oz whiskey tumbler glasses.



5. Oggi Professional 3-Bottle Revolving Liquor Dispenser
This item was included because if you're going to have a home bar you might as well have an item that isn't needed, but is certainly fun to have.  It's hard to argue having your own stainless steel revolving bottle dispenser isn't fun to have item.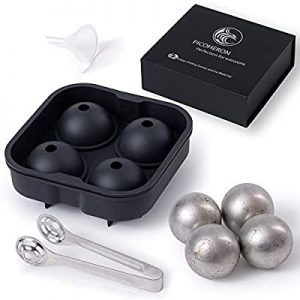 6. XXL Whiskey Chilling Stones and Ice mold set
The set comes with four chilling stones that are made of stainless steel.  They're filled with a special anti-freeze that is designed to keep your drink cold longer.  In addition to that it comes with an ice mold that makes a perfectly round balls of ice for a perfect whiskey.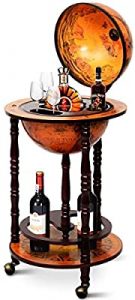 7. Goplus 17" Wood Globe Wine Bar Stand
Perhaps you're looking for something a little more obnoxious.  It doesn't get much more obnoxious than a wooden globe that serves as a wine bar.  I highly recommend this if you're that guy.  You know that guy, we all do.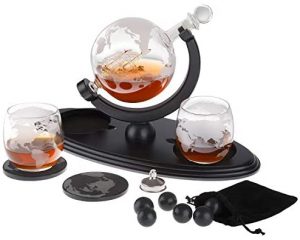 8. Globe Whiskey Decanter Gift Set by Royal Reserve
This item falls into that obnoxious column as well.  You could go with a more traditional decanter or you could go with this one.  Especially if you are someone who has to have something a little more unique when friends come over.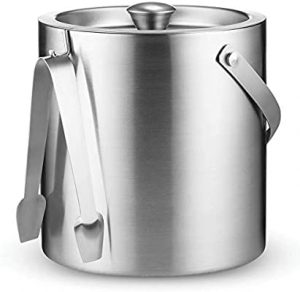 9. Double-Wall Stainless Steel Insulated Ice Bucket With Lid and Ice Tong
A solid ice bucket can be used in a variety of ways.  This 3 liter stainless steel bucket includes a strainer to keep ice cold and dry.  It's perfect for chilling beer, champagne and wine.  Truly a must have item for a home bar.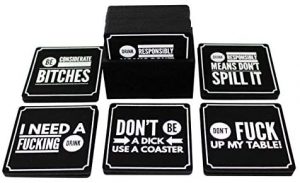 Every home bar needs a set of coasters.  These felt drink coasters probably won't get pulled out in mixed company, but they're perfect when you're putting a few back with friends.  As you can see the coasters come with some hilarious quotes printed on them.


* As Amazon Affiliates we may make a small commission on sales from this article.