If there's a situation that requires some light, there's a tactical light to fill that need.  Whether you're in need of light to help in an emergency or to light up the woods at night, these tactical lights have you covered.
They have long-lasting batteries, some of them are mountable, some have lasers and most importantly they provide you with some light in just about any situation.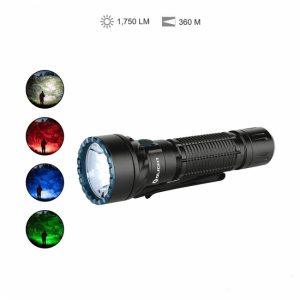 1. Olight Freyr
Olight first flashlight delivering normal white light and 3 helpful RGB lights for night vision protection, investigation, or signaling. Ideal for directing traffic or marking a potential danger with the included traffic wand. Max 1750-lumen output in an ultra compact size with useful dual switches.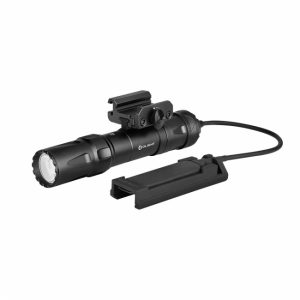 2. Olight Odin
Rotate-to-lock sliding mount for secure attachment. Revolutionary push-to-lock remote switch for tight and secure attachment. Max 2,000-lumen output, 300-meter throw, and 8-hour runtime. Integrated magnetic charging tail switch with compatible locking remote switch.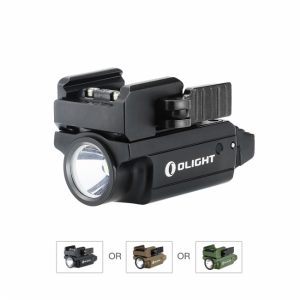 The world's first compact rechargeable light with an adjustable rail. Only 2.57 oz with a max 600-lumen output and a 100-meter throw. 60-minute runtime powered by a built-in lithium-polymer battery. Quick mount/detach system. Install and remove within seconds.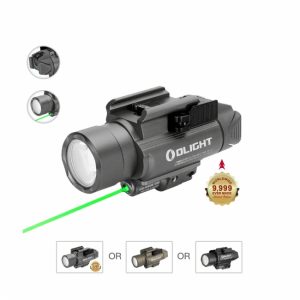 1,350 lumens and 260 meters beam distance. Safe and easy to adjust 5mW green laser. Quick mount/detach system. Green laser is clearly visible during both night and day.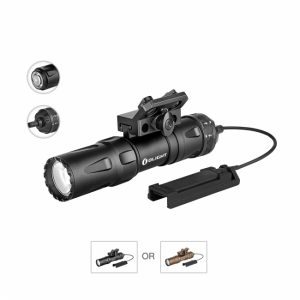 Ultra-compact M-LOK mount tactical light with max 1,250 lumens. Compatible with Picatinny rails via the optional adapter. Revolutionary remote switch ensuring a tight fit and quick attachment. Multifunctional tail switch for quick activation and tactical type usage.

High visibility green laser and 600-lumen white light combo featuring a 130-meter beam distance. Glock and Picatinny sized rail adapters included for a perfect fit. Quick attach / detach in just a few seconds with no tools necessary.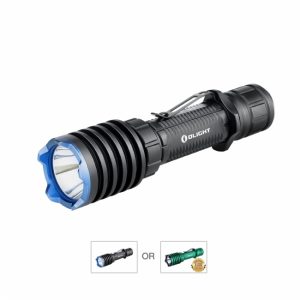 Max 2,100 lumens with a 500-meter throw. Passed 3-meter drop test and IPX8 waterproof.  A max 8-hour runtime powered by a customized 5000mAh 21700 lithium battery. Includes a MCC3 fast charging cable with a 2amp output, 2x the speed of previous models. Redesigned raised tail switch for an unprecedented intuitive operation experience.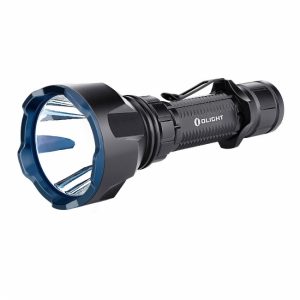 Tactical thrower delivering 1,100-lumen and 1,000-meter beam distance. Max 12.5-hour runtime powered by an included 5000mAh 21700 battery. Upgraded stainless steel tail switch compatible with optional push-to-lock remote pressure switch. Ideal long-distance flashlight for hunting, search/rescue, law enforcement, and other outdoor activities.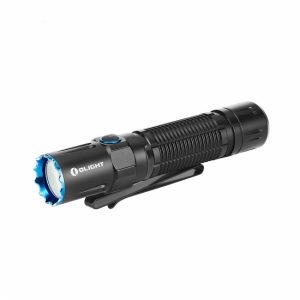 Max 1800 lumens output and 300-meter beam distance. 50 days max runtime with 5000mAh 21700 rechargeable battery. Magnetic base is stronger than ever; uses MCC3-USB 2A charger cable (included). Convenient and easy to operate with dual switch (tail switch+side switch).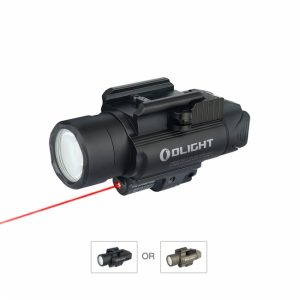 10. Olight Baldr RL
5mW Red laser helps you aim at target more precisely. Three light settings available by one rotating switch. Both Glock rail and Picatinny rail are compatible with Baldr RL. Max 1,120 lumens and 240 meters throw with 4 hours runtime.