People go crazy for their pets.  Dog owners are no different.  They spoil man's best friend like they're one of their children.  All the toys and snacks they can handle.
Here are 8 products for such a dog owner.  Your dog is sure to love these selections and do the many owners who have already purchased them.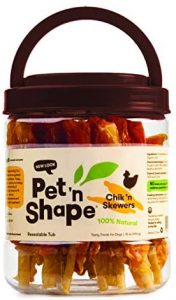 1. 
Pet 'n Shape Chik 'n Skewers
Tasty treats are sure to be a hit with your fur baby! What pup doesn't love a good rawhide? Rawhide chews are wrapped in all-natural chicken breast, adding some delectable flavor to your pupper's special snack. This crunchy delight is a good fit for any size breed.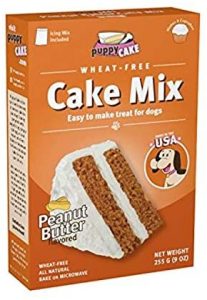 2. 
Puppy Cake Wheat-Free Peanut Butter Cake Mix and Frosting for Dogs
Give your dog one of our healthy birthday cakes for dogs or make dog cupcakes with Puppy Cake Mix for dogs. These dog birthday cakes come complete with frosting so you can have a dog bakery at home. Your dog can have their own birthday cake for dogs with Puppy Cakes perfect dog treat recipes.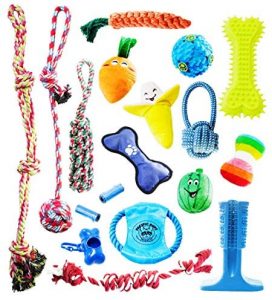 3. 
18 Piece Dog Toy Set with Dog Chew Toys, Rope Toys for Dogs, Plush Dog Toys and Dog Treat Dispenser Ball
Every purchase helps directly rescue a homeless dog from a high-kill shelter! Your dog will love our durable dog chew toy multi-pack!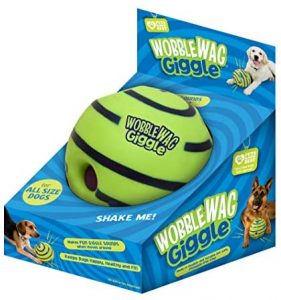 4. 
Wobble Wag Giggle Ball
Wobble Wag Giggle keeps dogs happy, healthy, and fit! Wobble Wag Giggle dog toy is an interactive toy allows dogs to entertain themselves! It makes fun giggly Noises when pushed around, shaken around, or picked up by the easy clutches.

5. 
Skinny Peltz No Stuffing Squeaky Plush Dog Toy
Skinny Peltz are no-stuffing plush dog toys that provide hours of squeaking fun without the unnecessary need of cleaning up fuzzy stuffing mess! This plush toy set includes 3 large characters that were lovingly brought to life using the best quality materials that are durable and safe for your pets.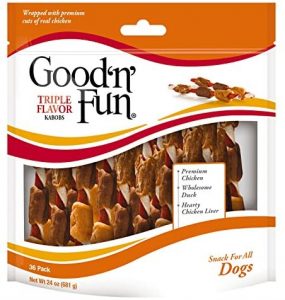 6. 
Good'N'Fun Triple Flavored Rawhide Kabobs
Good 'n' Fun brand offers a tasty smorgasbord of flavors that dogs love. These delicious chews are made from the finest ingredients, including real beef hide and real chicken, to create truly delightful, long-lasting treats your dog will love. Tails will be wagging for flavor-packed Good 'n' Fun Triple Flavor Kabobs, made with a savory combination of five flavors that dogs love most.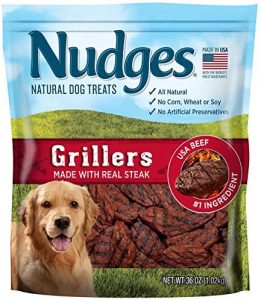 7. 
Nudges Grillers
Treat your dog to summer grilling all year long with the delicious taste, texture and aroma of Nudges Natural Dog Treats Grillers Made with Real Steak. Inspired by perfectly grilled favorite foods and made with real USA sourced beef as the number one ingredient, these tender dog treats contain no artificial flavors or preservatives.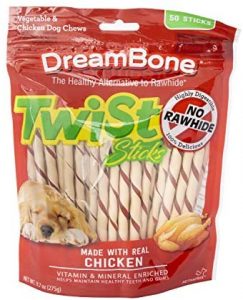 8. 
DreamBone Twist Sticks
DreamBone chews have all the benefits of a rawhide chew…without the rawhide! No-rawhide DreamBone chews are made with real chicken, beef, bacon and cheese or sweet potato and wholesome vegetables for a scrumptious taste dogs can't resist!