These days there is a constantly growing range of cool tech gadgets at your disposal to make your life a little easier. These budget-friendly tech finds are all under $100 and could be just what you have been looking for.
Samsung T7 Touch 500GB Portable SSD: $80


You really should be backing up your data, so an external drive is a must-have for anyone with digital files. The Samsung T7 Touch portable SSD has a built-in fingerprint scanner for security, and a 500GB capacity. There are also 1TB versions for a little more. It's a convenient size, and works on PC, Mac and Android. It also supports USB 3.2 for fast data transfers.
iSwift 6-in-1 Portable Desk: $90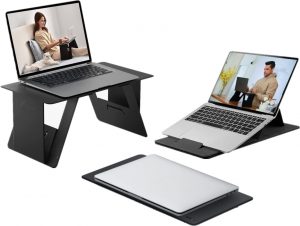 This portable desk converts from writing pad, to a tablet or laptop holder with three different layouts. But it doesn't stop there, it also flips into a mini standing desk or a lap desk you can use while working from bed or the couch. It holds up to 44 pounds, so it will definitely be strong enough for you heavy-handed cavemen typers. There are built-in magnets so each configuration locks sturdily into place, plus a carrying pouch. With a $90 price tag it's worth it for how quickly and easily it makes almost any surface turn into a desk.
Samsers Foldable Bluetooth Keyboard: $33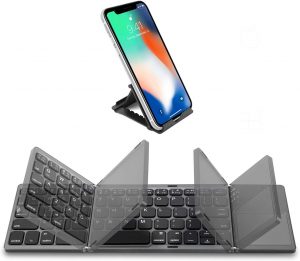 Compatible with iOS, Android and PC, and only slightly wider than a phone like the Galaxy S22 Ultra. This is as portable as it comes. This keyboard feels natural to type on and is only just shy of a full size. It also comes with a separate phone or tablet stand so you can keep your device upright while typing away. The rechargeable battery lasts for 48 hours.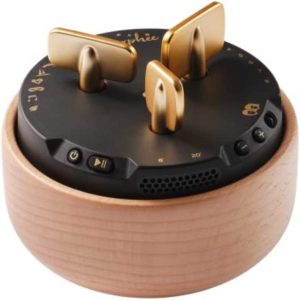 The Morphee meditation device looks like a steampunk clock, but it's actually a great way to ease yourself into a good night's sleep. Turn the first dial to select a mode like music, nature sounds or guided meditation. The second dial chooses from one of eight sessions and the last dial is for the duration (8-20 minutes).
It comes with a built-in speaker plus a 3.5mm audio jack for headphones, with a choice of male or female voice.
Rocketbook Smart Reusable Notebook: $27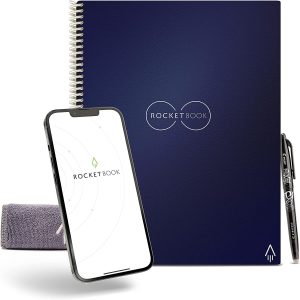 With the Rocketbook Core reusable notebook and Pilot pen, you'll never run out of paper again. Write until your heart's content, then just open the Rocketbook app on your phone. You can simply snap the page with your device's camera, then email it to yourself or upload to Google Drive, Evernote, Dropbox, Slack, One Note and more. When you're ready, just wipe away the ink with some water (with the included microfiber cloth), wait for the pages to dry and then reuse the notebook again and again.
* As Amazon Affiliates we may make a small commission on sales from this article.