cbdMD had premium products for people all across the world from all walks of life.  They rely on the products to feel their best.  CBD helps with sleep, helps with stress, and helps with relief and recovery.
cbdMD's CBD sleep aids have become a clear favorite to encourage regular sleep routines.  CBD has become a popular option to promote a sense of calm and relaxation – even when things get a little crazy.  Getting through a tough day and recuperating when the job is done isn't easy.  But cbdMD topicals and ingestibles put you in the best position to bounce back every day.
Here are some of cbdMD's best selling products.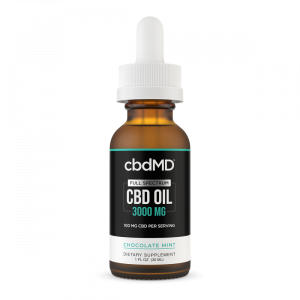 Full Spectrum CBD Oil Tincture
Keep it simple, keep it classic – with full spectrum CBD oil tinctures! Our tinctures are made with nothing but MCT oil infused with full spectrum hemp extract, available with natural flavoring. A CBD oil tincture gives you the greatest flexibility and choice: mix it with your coffee or tea, stir it into a CBD recipe, or deliver it straight under your tongue for fastest results. Simple, easy, and quick to use – pick your favorite concentration and measure it using our calibrated dropper so you get the complete benefits of our full spectrum hemp extract that your body needs!
Made with full spectrum extract from non-GMO hemp grown in the USA
Based in simple MCT Oil
Available in naturally flavored Chocolate Mint or unflavored Natural
Mint flavor comes from Organic Peppermint Oil
Choose from concentrations of 750, 1500, or 3000 mg CBD per bottle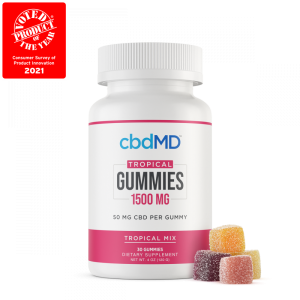 Get your daily CBD the delicious way with CBD gummies! A mouth-watering blend of fruit flavors makes it easy and fun to take cbdMD's CBD edibles infused with Superior Broad Spectrum hemp extract in a precisely measured amount in each gummy, so you know exactly how much you're getting. Now you can combine your CBD tincture or CBD cream with a sweet snack made for everyday support. Great for snacking, sharing with friends, or finishing off a meal, CBD gummies are among the most popular and versatile CBD edibles you'll find anywhere!
Infused with Superior Broad Spectrum formula with various cannabinoids and terpenes
Mixed flavors of Strawberry, Orange, Raspberry, and Tropical fruit in every bottle
Available in three CBD concentrations
Vegan and Gluten-Free
Made with organic sweeteners, oil, and juices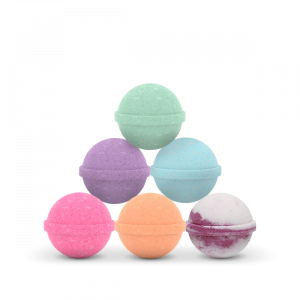 Made with premium CBD and essential oils, cbdMD's Signature Collection of CBD bath bombs revitalizes and relaxes. Each bath bomb contains 100 mg of premium CBD. Coloring is non-staining and absorption-safe, allowing you to enjoy the CBD experience any time of the day or night.
Oils of frankincense, lavender, eucalyptus, and our specially formulated blend
Epsom salts for healthy skin
Available in six color/scent combinations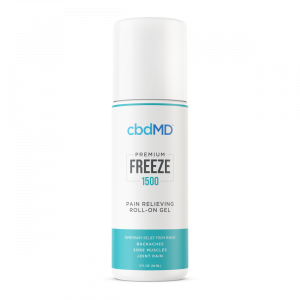 CBD Freeze combines the instant cooling relief of menthol with the soothing power of Superior Broad Spectrum hemp extract in a unique, award-winning CBD topical. You can feel it working right away by the instant cooling sensation that's perfect for all types of topical discomfort. Whether you're sore from a rigorous workout or a rough day at the office, this gentle, fast-drying gel helps ease temporary muscle and joint pain so you can relax and unwind. Choose from a no-mess roll-on applicator or a squeeze tube that's great for sharing with anyone – just make sure you save enough for yourself because this will be your favorite recovery tool!
Made with multiple cannabinoids and terpenes in our unique Superior Broad Spectrum formula
Menthol for cooling temporary pain relief
Includes Arnica, Tea Tree Oil, and Aloe Vera to soothe skin
Available in four CBD concentrations
Comes in squeeze tube or roll-on applicators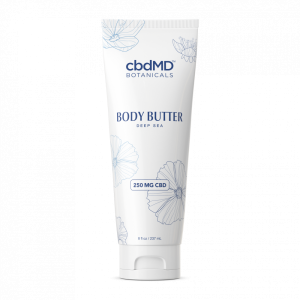 Make CBD body butter your go-to moisturizer for dry skin with this creamy, vitamin-rich formula that includes the topical benefits of CBD. Add this natural beauty product to your daily skin care routine and let coconut oil, shea butter, and argan oil renew your skin with deep moisture to promote softer, healthier skin. Enjoy that all-day moisturizing feeling with the botanical power of our CBD body butter in three natural scents: Pure Coconut, Deep Sea, and Lavender Chamomile. Sit back, relax, and enjoy your new everyday beauty experience – the way Mother Nature intended!
Crafted with our Superior Broad Spectrum formula of cannabinoids and terpenes
Contains skin-nourishing ingredients like Coconut Oil, Cocoa Butter, Shea Butter, Argan Oil, and more
All products are made with strict GMP production standards to ensure the highest quality
Tested to contain non-detectable levels of THC in ISO certified labs
Provides 250 mg of CBD per 8 oz. tube