Gear up for every day carry with Going Gear.  They have a monthly every day carry box that they hand pick the gear and send it to your home.
The business, which started out of the owner's home, has expanded from one product to many well-made products, including every day carry items.
Sign up today and start getting your monthly every day carry boxes with all the EDC items you need.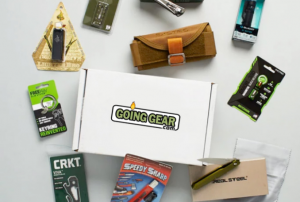 The ONLY Every Day Carry Box You Need
What's Inside
Hand picked gear that you actually want and need. Everyday carry or EDC gear that will help you tackle your daily tasks and prepare you for unexpected Everyday problems. Think anything from knives and flashlights to never before seen gear from the most popular makers.