BrewDog was created to revolutionize the beer industry.  Their goal is to completely redefine beer drinking culture.  They're determined to make a stand for independence, a stand for quality and stand for craft.
As they've grown BrewDog has stayed the same.  The mission, which they say is nailed to the wall and written in blood, is to make other people as passionate about great craft beer as they are.
Get craft beer made for the people.  Here are a few of their new arrivals.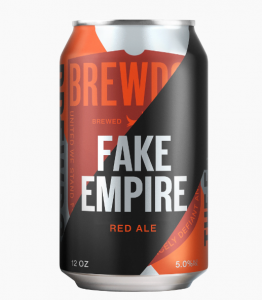 As this liquid forms a foamy halo around your glass, you'll never look back. A clash of kings, FakeEmpire is as malty as it is hoppy. As sweet as it is bitter. As anarchic as it is structured. The perfect union between these two sides creates a thunderbolt of bittersweet chaos.
Pours ruby red with berry and caramel notes riding alongside marmalade and chocolate. Spice and toast jostle with lychee.
Fake Empire - The empire strikes red.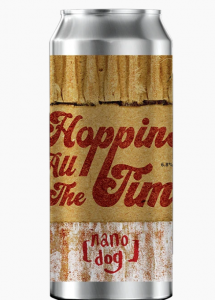 "Hoppins all the Time" is a 6.8% West Coast IPA brewed with Citra Incognito and fermented with Berkeley Yeast Lab's "Super Bloom" strain. This California ale yeast was genetically modified to produce terpenes (aroma compounds associated with hops and cannabis) and gives off a bouquet of lime and tangerine with notes of berry. We accentuated these aromas with a generous dry hopping of Amarillo, Citra and Simcoe hops. This was brewed in collaboration with one of our favorite new bands, Spaceface! Check out their new single, "Happens all the Time" out now!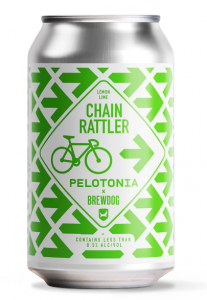 Our first non-alcoholic radler does not disappoint. Chain Rattler, made in collaboration with non-profit Pelotonia is our tasty take on the traditional radler, aka "shandy". Radlers' inception started during the great cycling boom of the 1920's, in a small town outside Munich with a drink named Radlermass (meaning "cyclist liter"). Its creator, Franz Kugler, was an innkeeper and created a beautiful bicycle trail through the wood from Munich directly to his drinking establishment. On a beautiful June day in 1922, a reported "13,000 cyclists" payed Kugler's inn a visit. With thirsty cyclists at the ready and Franz running out of beer, he blended it with a lemon soda to quench all in attendance. And alas, the raddler was born.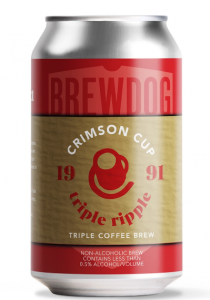 Crimson Cup has roasted exceptional craft and specialty coffees in Columbus, OH since 1991. Their Friend2Farmer program goes far beyond Fair Trade; they help provide a better quality of life for the farmer, their families and their community so every purchase makes a meaningful impact. This cold brew-style stout contains their specialty roasted Kossa coffee, added in three different ways at three different times to fill this NA brew with a chewy body. Heavy hitting waves of roasted coffee aromas with almond and dark fruit lead into a sip of sweet, creamy bliss.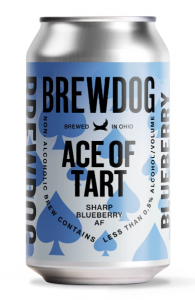 Jam packed with big, bold blueberry flavors, Ace Of Tart is a showdown of fruity and refreshing tartness - this non-alcoholic beer is no bluff.
A flush of blueberry is followed by a supporting deck of dark berries at the edges of the taste, as a light, effervescent finish hits the deck.
Ace Of Tart – A blueberry full house.
Find Ace of Tart in July's BrewDog & Friends alongside Nanny State and two collaborative box-exclusives from Lamb of God and Pelotonia.