If you're a coffee drinker you know how important it is to get your fix every morning.  Why not get more from your coffee?
What do I mean by getting more from your coffee?  I mean adding some vitamins to your morning caffeine ritual.
You can do that with VitaCup.  They offer coffees and teas that are infused with vitamins and superfoods.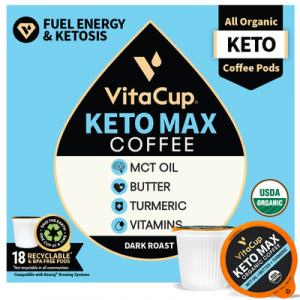 Don't waste time and money buying individual ingredients to make your keto coffee. VitaCup Keto Max takes the work out of it for you! We infused premium keto essentials: organic butter + organic coconut MCT oil + vitamins, in a ready to drink formula, giving you a quick and delicious cup of keto coffee.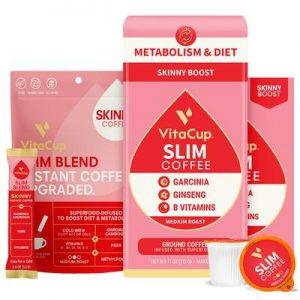 We all get by with a little help from our friends! Hydroxycitric Acid extract (Garcinia Cambogia) and Panax Ginseng work together to create a healthy coffee blend that's all fired up and ready to go. Paired with a nutritious diet and exercise, our Slim Blend is the perfect sidekick to your health, wellness and fitness goals.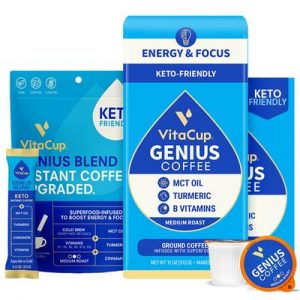 Attention masterminds: we've infused your daily cup of joe with a boost of essential vitamins, MCT Oil (Medium Chain Triglycerides), Cinnamon, and Turmeric to help your brain and body stay brilliant. What can we say? Not all heroes wear capes.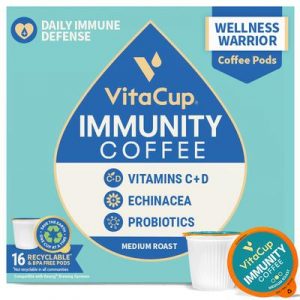 Have you heard the term "your body is a temple"? Well, we couldn't agree more! That's why we've created a blend infused with powerful immunity warriors to serve, protect, and nourish your temple. The infusion of Echinacea, Probiotics, a Prebiotic, and Vitamins work in tandem to create harmony, balance, and strength within YOU.