The holidays are not showing themselves from around the corner.  Don't get caught with your pants down, also known as running out last minute for gift cards.
Don't get me wrong, I'm a big gift card guy.  But for those you really care about this holiday season pick up something nice.  Harvey Nichols has a bunch of nice things.
Who doesn't love a nice box of chocolates?  Or portable espresso machines?  I don't know anyone who would turn these gifts down.  They're perfect.
Check out some more perfect gifts that we selected for you.  If none of these are what you're looking for click one of the links and take a look around at what they have at Harvey Nichols.
I'm very confident you can find something for those you care about.
Cementing their position as the connoisseur's choice, Godiva has created the Connoisseur Collection of 18 Assorted Milk Chocolates – a dizzying array of rich, velvety chocolate ganache, fascinating pralines and smooth caramels. Dive in and experience flavours of almond, hazelnut, macadamia, coffee, cinnamon, sea salt, lemon peel, honey and so much more in every new bite.
This world-renowned chocolatier was established by Joseph Draps in Brussels almost a century ago. Named in honour of the legendary Lady Godiva, who rode through the streets of Coventry covered only by her flowing locks so that her husband would remit the high taxation he had placed on the locals. All but one of the townsfolk closed their eyes and shutters as her horse carried her naked through the city; that one who sneaked a glimpse gave rise to the term "Peeping Tom". And the chocolates that Godiva produce are well worth looking at. Belgium is the spiritual home of luxury chocolate and Godiva has earned its place in the pantheon of greats.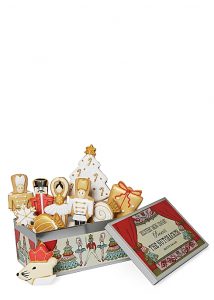 No Christmas tree will be complete without this Nutcracker-inspired Biscuit Box beneath it. Crammed into every corner of this beautiful keepsake tin, you'll discover ten hand-iced biscuits shaped like nutcrackers, ballerinas, baubles, snowflakes, Christmas trees, presents and of course the Mouse King. Twice baked to a traditional English recipe, the texture falls between the snap of classic gingerbread and the crumble of buttery shortbread. Each delicious biscuit has been given a fragrant and warming spice, making them perfect for wishing the family, the office or the neighbours a Happy Christmas. You'll have them pirouetting with joy.
As well as running a catering company and the Women's Prize for Fiction, the multi-talented and obviously extremely busy Harriet Hastings established Biscuiteers with her husband Stevie Congdon in 2007. Together they and their team of artists create beautifully iced, one-of-a-kind biscuits that are guaranteed to put a smile on anybody's face. Their concept has proven so popular that they've recently outgrown their kitchens and offices, causing them to create a new purpose-built facility in Colliers Wood, London, that they lovingly refer to as the Ministry of Biscuits. Together this merry band of Biscuiteers live by the motto: all for biscuits, and biscuits for all.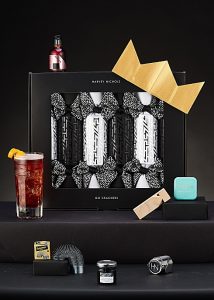 Why did Granny fall off her chair? Because she got a bottle of Harvey Nichols Damson Gin Liqueur in her cracker.
As well as groan-filled jokes and party hats galore, they're packed with gorgeous Harvey Nichols pressies – cracker gifts that you might actually want to keep for a change.
It's potluck whether you get a delicious jar of Harvey Nichols jam, the Damson Gin Liqueur that will get Granny giddy, a fabulous Harvey Nichols Champagne stopper or our oh-so-chic tin of Minted by Harvey Nichols mints. For the child inside, there's a slinky spring in one of the crackers and a wooden whistle that's great for rousing Dad from his post-pudding slumbers.
These crackers are, well, real crackers that'll make your party go off with a Harvey Nichols bang.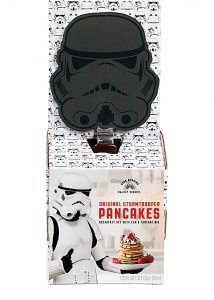 Do you like your pancakes on the dark side?
The Original Stormtrooper Pancake Baking Kit contains everything you need to make breakfast for the entire Death Star.
Inside you'll discover a whimsical pan in the shape of a Stormtrooper's helmet, pancake mix and full instructions (we're not sure if those are translated into all the languages of the Galactic Empire, but all the bad guys in Star Wars were English, right?). The only extra things required are a half cup of water to add to the mix, a little vegetable oil for greasing the pan, and any additional topping your heart desires.
Stormtroopers couldn't hit a barn door with an E-11 blaster rifle, but this is the cult Christmas gift that never misses.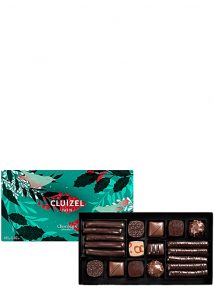 This festive season, the revered Parisian chocolatier Michel Cluizel leads you into the wild with a spellbinding collection inspired by nature and wintertime.
Michel Cluizel's 20-piece box contains an assortment of his masterpieces in dark, milk and white chocolates. The finest ganache sits alongside single origin chocolates and a dizzying array of flavours including lemon, nougat, cranberry, festive spices, nutty praline, Bourbon vanilla pod and a pinch of Espelette chilli pepper. But the standouts are the new chocolate-coated orange and lemon peels. Whether you're sending a Christmas present or are looking to arrive at a New Year party with the most stylish gift, this elegant chocolate box is the answer.
Michel Cluizel is a man referred to as "The Goldsmith of Chocolate", a moniker that is more than justified. We sometimes don't know whether to eat his exquisite creations or wear them as jewellery.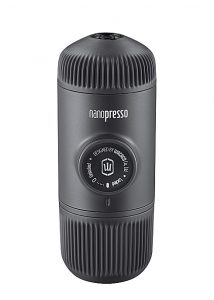 A pocket barista, Nanopresso allows you to create a perfect espresso topped with a dense crema absolutely anywhere.
At under 16cm long and weighing less than 350g, Nanopresso is Wacaco's smallest and most travel-friendly portable espresso maker yet. Despite its diminutive stature, this robust BPA-free machine boasts an 80ml water tank – perfect for sharing or for a double shot when you need it most. Tamp down your favourite Harvey Nichols finely ground coffee, add boiling water, and easily squeeze out an immaculate espresso.
Wacaco's patented piston pumping system can produce a steady pressure of up to 261psi, that's similar to that achieved by the boiler of a steam locomotive, resulting in a wonderfully smooth coffee. This model comes with a hard EVA travel case with a soft fabric lining to protect your Nanopresso on the move. It's also possible to purchase the NS Capsule Adaptor, which allows you to use Nespresso®* compatible pods in your Nanopresso. Where will you enjoy your next espresso?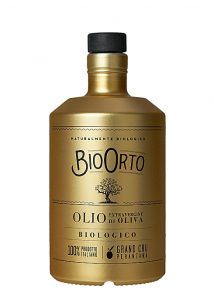 Olive oil is fast becoming the new fine wine. Taking a bottle of wine to a dinner party is fraught with danger. Does the host drink? Will the wine match the food? Is it vegan? What if they squirrel away your prized bottle in the wine rack for another day? So, why not consider taking a bottle of extra virgin olive oil as a gift instead? BioOrto's limited edition Grand Cru line is the perfect place to start.
BioOrta is a well-oiled machine. The organic fruits are picked from their centuries-old olive trees and are pressed within six to eight hours. Their products come highly recommended by Flos Olei 2019 – a guide to the world of extra virgin olive oil. Their Grand Cru oils come from the very finest plots, and this one is made from a single varietal called Peranzana, which has low levels of acidity and is highly prized among those in the know. The name is derived from 'Provençal', i.e. coming from Provence, and it produces a wonderfully fragrant oil with intense notes of ripening tomatoes, herbes de Provence, almonds, artichokes and fruit. In its stunning gold bottle, it's an incredible gift that anyone would love to make a home for in their kitchen.
We fell in love with BioOrto because their produce is all so healthy, nutritious and full of goodness. Then we met the Passalacqua family – saw their hard work, heritage and provenance – and understood why. Their grandparents moved from a nomadic livestock lifestyle in the mountains of Abruzzo and headed south to settle in Puglia near the Gargano National Park. Here on the fertile soils in the perfect climate, they began farming fruit and vegetables in harmony with nature. Over subsequent generations their operation has grown to 5,000 hectares and they've become synonymous with top-quality, hand-picked, organic produce throughout Europe.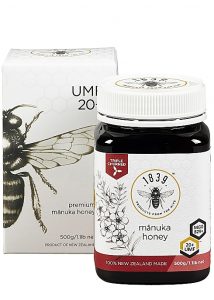 To retain their unique health benefits and tangy character, 1839's natural honeys are 100% pure and receive no heat treatment whatsoever. They're all triple churned, giving them a signature silky-smooth texture quite unlike any other. Their Manuka Honey UMF 20+ is extremely rare and offers an unrivalled super boost to health, wellbeing and immunity, all the while tasting utterly delicious. It also comes in a rather stylish gift box. Spread it on your toast, spoon it into porridge or yoghurt, sweeten your tea or smoothie with it, or incorporate it into your beauty regime by applying it topically or mixing it into a luxurious face mask.
Honey has been used to heal wounds, clear skin, soothe sore throats, improve digestion, boost energy and promote health and wellness for millennia. Manuka honey takes this to the next level, having been scientifically proven to contain antibacterial and antimicrobial properties and over 200 active compounds not found in most honeys. The UMF – short for Unique Manuka Factor – is independently certified by the UMF Honey Association. It's a reference to the antibacterial quality of the honey, specifically the content of Leptosperin, Dihydroxyacetone, Methylglyoxl and Hydroxymethylfurfural. Basically, the higher the rating, the greater the nutritional benefits. The authenticity and quality of Manuka honey is also verified by the New Zealand Ministry for Primary Industries, who test for four specific chemicals and one DNA marker from the Manuka pollen. 1839 go one step further by adding a unique QR code to their packaging so that you can verify its authenticity, the hive it came from and the batch information. So, you are guaranteed that this is the good stuff.
In 1839, Mary Bumby brought two beehives from England to New Zealand, introducing honey bees to those Pacific islands for the first time. Here they thrived in the unique landscape, falling in love with the prolific flowers, particularly Manuka. Inspired by this Victorian lady's pioneering spirit, Rob McConnachie and Hannah Dobbie created 1839 to promote products from the hive and celebrate life.