It's about time steakhouses and restaurant quality meats were available to everyone!  The Holy Grail Steak Co. has made it their mission to do just that.
The Holy Grail Steak Co. delivers world class steaks right to your doorstep.  They only work with ranchers that do not use hormones, antibiotics and provide only humane living conditions.
If that sounds good to you, and how could it not, then you need to take a look at a few of their best selling products.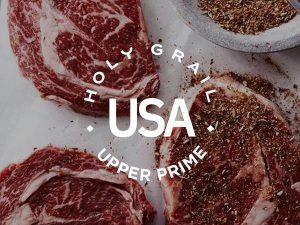 UPPER PRIME BLACK ANGUS RIBEYE ~16OZ
The vast majority of Prime steak today is actually lower Prime or, as the USDA puts it, "at least slightly abundant marbling". This goes a long way to explaining the rapid growth in the availability of USDA Prime steak in today's marketplace. However, we're here to tell you, NOT ALL PRIME IS CREATED EQUAL.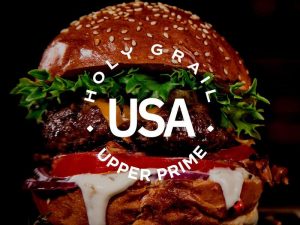 UPPER PRIME 8OZ STEAK BURGER- 2 PACK
You simply won't believe these burgers. We ground trim from our Upper Prime Ribeyes, Tenderloins and NY Strips and mix it with with the trim from our 100% Black Angus Grass-fed Prime program to make what is possibly the best burger on the planet available online.
These burger patties each weigh 1/2 lb and are pre-formed -- ready for your grill. You and your family will be amazed - this is a true "Steak Burger."
2 x 8 oz burger patties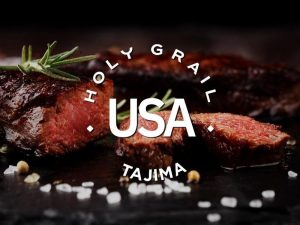 TAJIMA AMERICAN WAGYU NEW YORK STRIP STEAK ~16OZ
These New York Strip Steaks are the best the American-raised Wagyu world has to offer. A perfect cut for those of you who want an experience that falls somewhere in-between A4 and A5 Japanese Wagyu, about 7-8 BMS on the Japanese marbling scale. Like fois gras, a little goes a long way here, and this single steak is likely to satisfy two people.
A blend of Wagyu and Angus genetics then periodically over-layered with Fullblood Wagyu genetics, our top-end American Wagyu program is overseen by Mr. Shogo Takeda. The cattle are fed a traditional yet proprietary Japanese Wagyu diet with high-quality Midwest ingredients for two to three times longer than commercial cattle. These animals are humanely raised and harvested with no added hormones or antibiotics.
~16oz. New York Strip Steak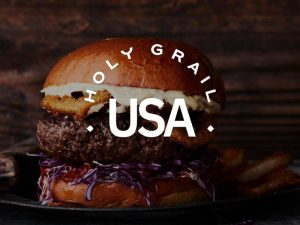 WAGYU BURGERS - HALF POUND PATTIES
Fantastic Wagyu burger patties.
2 x 8 oz. patties per pack.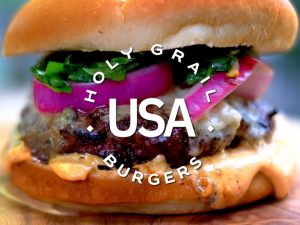 TAJIMA AMERICAN WAGYU + GRASS-FED PRIME BURGERS (2-PACK)
In a single burger you get the rich, luxury experience of our Tajima American Wagyu beef expertly blended 50/50 with complex beefy flavor of our Grass-fed Prime. The results are simply stunning - possibly the best burger you'll ever try.
- 2 x Burger Patties, 8 oz each