With over one million consumption accessories sold and over 15,000 subscribers, Daily High Club is one of the leading online retailers of glass water pipes, vaporizers, and other in demand consumption accessories. Daily High Club provides a marketplace with a wide variety of high- quality products and subscription boxes. Daily High Club has an active social media presence with numerous influencer and celebrity endorsements including deals with Tommy Chong, Chanel West Coast and more. Daily High Club boasts over 800,000 followers on Instagram and 5,000 followers on TikTok. The company's website offers an engaging and fun shopping experience.
Dab Rigs, Bongs, Pipes, Accessories
l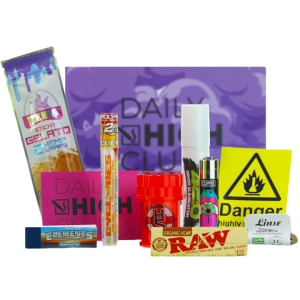 For those who like to be well versed in the art of smoking.
Try 7-9 products
Curated by smoking experts
Free shipping in the US
$8 shipping to Canada
$13 shipping to non-US/CA
This monthly smoking box has all of the essentials: rolling papers, lighters, cleaning accessories, and then some. It's the ultimate package when you are feeling down to try something new. Sign up for the plan and keep getting awesome new gear to try every month, or switch out for a different option when you're ready. The best reason to try out the Connoisseur is that you'll become one!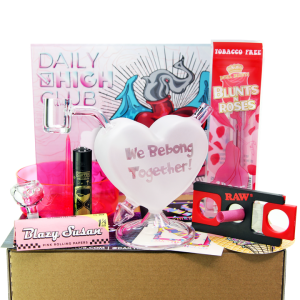 Forget the fancy packaging and gimmicks, El Primo is about stuffing a massive box to the brim with awesome smoking supplies. Limited quantity!
You'll always get new glass for your mantle
Over $100 worth of products
Always get the essentials
Due to the COVID-19 pandemic we have limited our in-person staff at our fulfillment center. Please allow up to 3 weeks for your order to process. Boxes begin shipping December 15th barring changes in circumstance around the COVID-19 pandemic.
"Love to Sesh" Subscription Boxes begin shipping February 15th! Please be patient as shipping can be delayed due to the COVID-19 pandemic.
WHAT'S INCLUDED:
Daily High Club 10mm Heart Traveler Glass Bong
Premium 10mm Male Glass Bowl
Premium 10mm Male 45° Quartz Banger
Beamer Smoke Depiper Assorted Color
RAW Cone Cutter
Premium 1 ¼ Wide Classic Rolling Papers - Assorted Styles
Blunts 'n Roses Tobacco Free Pre-rolled Blunt Wraps
Full Size Clipper Lighter - Assorted Styles
Custom Daily High Club Sticker Set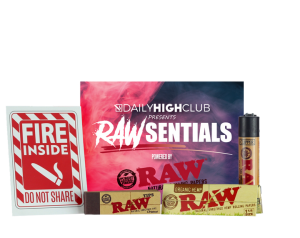 Get your RAWsentials shipped right to you every month!
1.25 Wide RAW Organic Hemp Rolling Papers
All-Natural RAW Filter Tips
RAW Clipper Lighter
Assorted Sticker
This monthly smoking subscription box is the perfect way to stay stocked up if you love rolling up! Get guaranteed RAWthentic products shipped straight to your door. Never worry about running out of papers again with the RAWsentials subscription!