Eating healthy can be a difficult task in today's busy world.  It often gets put on the back burner for quicker, less healthy options.
If that describes your current situation it might be time to give fully-prepared meals that are delivered fresh, and ready to eat in just 3 minutes.
Freshly offers that with several plans to choose from so you find one that works for you.  Choose from 4, 6, 10, or 12 meals per week.
Here's just a sampling of what they have to offer: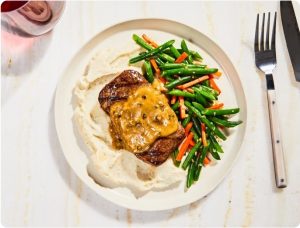 1. Steak Peppercorn with Sautéed Carrots & French Green Beans
Tender, high-protein flat iron steak, grilled to perfection. Bed of creamy mashed potatoes as a hearty accompaniment. Side of French green beans and vitamin-rich sautéed carrots tossed with garlic oil, lemon, and herbs. Topped with a creamy peppercorn sauce made with yogurt and porcini mushrooms. Try finishing your dish with freshly chopped parsley.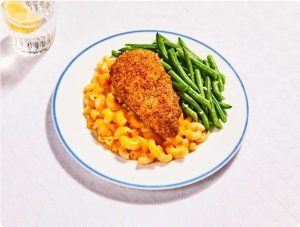 2. Homestyle Chicken with Masterful Mac & Cheese
Greaseless oven-fried chicken breast, hand-"breaded' with a gluten-free almond flour batter. Our Masterful Mac is made with gluten-free brown-rice macaroni and a cheesy sauce thickened with butternut squash. Garlicky green beans tossed in our fragrant, house-infused oil. Add some chile kick with red pepper flakes or your favorite hot sauce.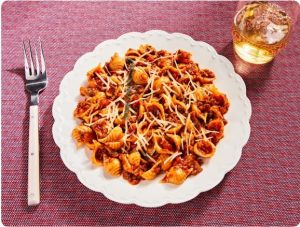 3. Cauliflower Shell Beef Bolognese with Nonna's Soffritto & Italian Cheeses
Our gluten- and grain-free cauliflower pasta shells and high-protein ground beef. Our Masterful Marinara sauce is packed with five sneaky veggies and a hint of honey for sweetness. Nonna knows best: our simmered Italian soffritto of carrots, onions, celery, garlic, and parsley builds rich flavor. Topped with a blend of parmesan and asiago cheese. Our chefs recommend finishing your dish with freshly torn basil.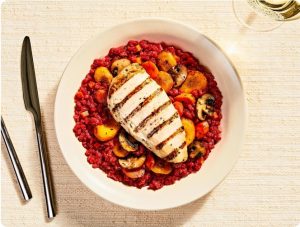 4. Brilliant Beet & Chicken Risotto with Roasted Rainbow Carrots
Deeply savory and decidedly purple, our gem-colored risotto celebrates hearty winter fare. Powdered beets infuse creamy arborio rice with veggie goodness and an earthy-sweet flavor boost, alongside notes of fennel and orange. Topped with tender, grilled chicken breast for a hit of lean protein. Oven-roasted rainbow carrots and sliced mushrooms add an extra helping of veggie goodness. Slow-stirred with nutty parmesan cheese.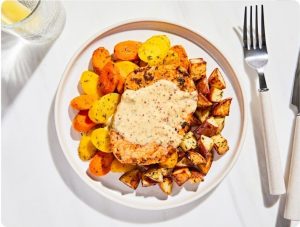 5. Dijon Pork Chop with Sea Salt Potatoes & Roasted Carrots
Serious bistro flavors from the classic, french-inspired pairing of pork and Dijon mustard. Tender, oven-glazed pork chop, cooked to perfection. Smothered in a sauce made with whole-grain Dijon mustard, dill, half & half, and a touch of maple syrup for the perfect balance of acidity, sweetness, and richness. We pair it with a hearty duo of roasted red potatoes and seasoned carrots, rich in antioxidant beta-carotene.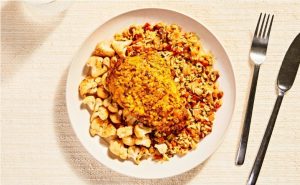 6. Spiced Dukkah Chicken with Persian Apricot Rice & Cauliflower
Take a trip to the spice markets with our juicy golden chicken. High-protein chicken breast is coated in dukkah—a Middle Eastern mix of toasty almonds, sesame seeds, and fragrant spices like turmeric, cumin, and cracked black pepper. A bed of spice-infused Persian rice with textural bite from chopped almonds and nuggets of sweet dried apricot. Tender roasted cauliflower, lightly dusted with ground cayenne pepper.