Save time and money with delicious home-cooked meals from the meal delivery service EveryPlate.  It's easy to get to get setup and start having meals delivered to your doorstep.
You pick from 14 delicious and affordable weekly recipes.  They deliver everything to your front door and the home-cooked meals are ready in 30 minutes.
Here's a taste of what EveryPlate has to offer.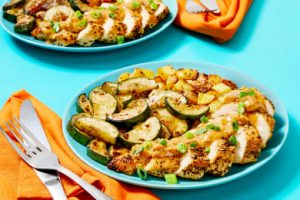 Creamy Dijon Chicken with Zucchini & Herby Potatoes
Here at Everyplate, we're allllll about making chicken-for-dinner something you want to make again and again and again and...you get the picture. Team #notboringpoultry for life! This version pretty much sets the standard. Here, juicy chicken is draped in a creamy, savory, tangy, pan sauce. To bring it all home, we're serving it with sides of tender zucchini and crispy, Italian-seasoned potatoes. You'd be chicken not to try it!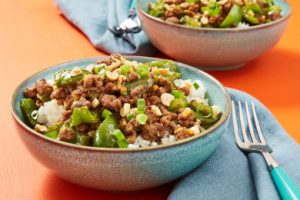 Kung Pao Beef Bowls with Green Bell Pepper & Peanuts
There are a lot of skills we learned in school that we never use in real life: Writing in cursive. The Pythagorean Theorem. Making dioramas. Playing Hot Cross Buns on the recorder. And then there are the real life skills we wish we were taught: How to open a checking account. Networking. Basic car maintenance. And, perhaps most important, how to make a killer stir-fry. Good news, friends—we've got you covered on that last one. Here, you'll whip up an easy, super-flavorful version with ground beef, green bell pepper, and scallions in a garlicky ginger-soy kung pao sauce. Essential life skill learned? Check. Amazing dinner made in less than 30 minutes? Double check.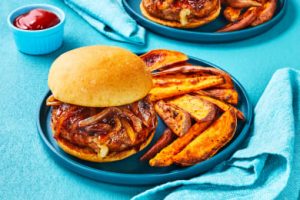 Gooey Stuffed Pork Burgers with BBQ Onion & Crispy Sweet Potato Wedges
Not everyone loves surprises, but we can almost guarantee that anyone would be game for a treasure trove of gooey cheese hiding inside their burger. And if that cheese happens to be flecked with bits of jalapeño? Even better. A pork patty is the perfect vehicle for a tangle of sweet, jammy BBQ onions. To bring it all home, this molten masterpiece is served alongside crispy oven sweet potato fries. Would it really be a burger without 'em? And it's not even our birthday...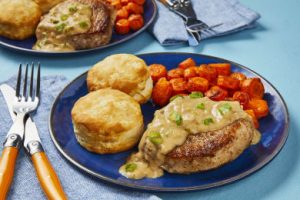 Gravy-Smothered Pork Chops with Buttermilk Biscuits & Roasted Carrots
As your friend, we would never, EVER make you choose between gravy-smothered pork chops and gravy-smothered biscuits—it's just not right. You deserve it all! Enter: these juicy, spice-rubbed pork chops, which are draped in creamy gravy and paired with buttery-flaky-golden biscuits and roasted carrots. If this counts as gravy-enabling, we can live with that—after all, what are friends for?