What is the clean problem?  The cleaning industry isn't as clean as you think it is.  The Cleancult has been dedicated to finding natural ingredients that are tough on grit and grime, but easy on the environment.
They've built a better cleaning system, one that's easy, sustainable, and cost-effective.  One that rethinks everything, from ingredients to packaging to performance to shipping.
Many green cleaners don't actually clean, and conventional ones often contain unhealthy chemicals.  Cleancult has plant based formulas that harness the power of biodegradable elements, creating a clean that's uniquely tough on grit and grime but gentle on you, your skin, and our earth.
Go green, go clean with one of their bundles.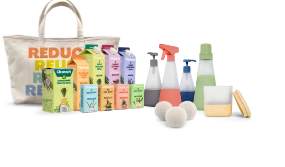 Everything you need to start your new clean routine, at our best value! Our fullest set is packed with over 30% off in savings, essentials, and more! This bundle includes our entire suite of refillable glass bottles in your choice of color, a complete set of our best-selling CocoClean Technology Formulas for every room in 32 oz & 16oz refill cartons, 4 of our customer favorite bar soaps in bamboo lily, grapefruit basil, sea spray & aloe, and juniper & sandalwood (all on us!). Once your bundle arrives, simply fill your glass bottles and dive into a plant-based and effective clean routine.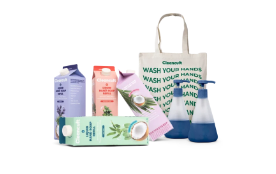 Not sure which scent to choose? Then you'll love our Complete Hand Soap Bundle. This assortment includes two empty refillable glass bottles and a total of four 32 oz Liquid Hand Soap refill cartons in Sweet Honeysuckle, Blue Sage, Lavender, and Grapefruit Basil. Each refill is packaged in our recyclable milk cartons. Add this bundle to cart and save!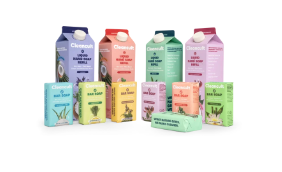 Whether you like bar soap, or liquid hand soap, or love 'em all, our Double Bubble Bundle has you covered (and then some!). This limited edition assortment is packed with four 32 oz Liquid Hand Soap refill cartons, seven bars of our bar soap, free shipping, and 40% off in savings. Your skin will be clean, nourished, and rejuvenated, thanks to the plant-based power of our CocoClean Technology. This exclusive bundle is only available for members, so grab yours now and enjoy those sweet Cleancult perks!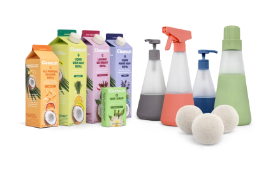 Looking for a fast, convenient and easy way to adopt a new eco friendly cleaning routine for your home. Well, look no further, we've created the Every Day is Earth Day starter cleaning bundle to help you disinfect every room in your home with safe and clean ingredients. The extra bonus- instantly reduce plastic from the waste stream without having to change your normal cleaning habits. This bundle is filled with cleaning products that are free from toxins making it safe for your family, safe for your pets, and safe for the planet. Enjoy our reusable empty glass bottles, three 32 oz refills (including laundry detergent, hand soap and dish soap), a 16 oz all purpose cleaner refill, a bar of our customer favorite bamboo lily soap, 3 dryer balls. All at 40% off today. No coupon required.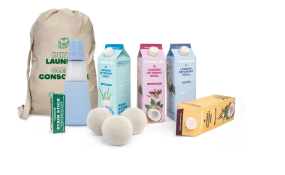 Complete Liquid Laundry Bundle
Not sure which scent to choose? Shop all four of our liquid laundry formulas and save! This bundle includes an empty liquid laundry bottle, dryer balls, our new stain stick, and a total of four 32 oz Liquid Laundry refill cartons - Fragrance Free, Juniper Sandalwood, Sea Spray & Aloe, and Sweet Honeysuckle. Each refill carton is packed with the plant based power of our CocoClean Technology that's tough on dirt but gentle on you, your clothes, and the planet.